Sonatest Veo3
Sonatest Veo3
Sonatest Veo3 Retaining the best features of the established Veo line, the new Veo3 now offers a PCAP touch interface, user templates, and more importantly, live TFM. The Veo3 multi-techniques allow inspectors to keep inspecting as they always have, with no need to change their current workflow and by doing so, users can benefit from the additional resolution and sizing performance of TFM while carrying out an already approved, trusted and reliable procedure.
Overview Sonatest Veo3
Superior Digital Technology
The Veo3 offers superior data throughput and unsurpassed computational capacity. It delivers fast and accurate results using an impressive 32 channel PA beamformer that provides exceptional SNR, using enhanced digital signal processing.
Data file size is not a concern for the Veo3 thanks to its 64-bit Linux operating system because it can count on a fast 128GB SSD memory capacity allowing you to record huge amounts of information in a single acquisition file.
With its advanced technology the Veo3 is unique in allowing real-time multi-scan/multi-technique capabilities.  Simultaneous TFM, PA and TOFD views are now possible.
Intuitive Menus and Workflow
The intuitive menu system is application and workflow driven, with set up and operation swiftly becoming second nature. Integrated help and wizards guide the user through scan set up whilst optimisation tips ensure the Veo3 always performs at the highest level. Fast and efficient wizards for sound velocity; wedge delay, TCG, DAC, TOFD setup and encoder calibration are all provided as standard.
The inspection plan shows the operator in 3D where probes are positioned on the test part, simplifying the inspection set up and providing an inspection reference for reporting. Using the latest computer technology, data can be permanently recorded for processing and report generation. All adjustments to focal laws are instantaneous, with angle resolution to 0.1° and up to 1024 focal laws without loss of performance.
---
FMC/TFM
With its unique architecture the Veo3 can generate up to six live TFM scans, produced from multiple FMC sources on different probes, and also generates TFM images of up to 500k pixels with a maximum resolution of 100 pixel per mm without limiting the number of pixel per axis.
All of the data received during Full Matrix Capture (FMC) scanning can be recorded on the Veo3.  As a result, further detailed analysis can be performed including comparison with previous inspection data to identify trends and flaw/corrosion growth rates.
The Veo3 can combine up to 4 live TFM modes. As known as TFMi™, the details of the defects have never been so close to the reality. That imaging scan provides a high-precision height assessment and an improved shape accuracy compared to conventional PA inspections.
The ability to characterise the type of defects is now effortless. This technique has indeed demonstrated superior results on weld analysis.
Sonatest Veo3
UTstudio
UTstudio makes inspection data management easy. Loaded with a comprehensive user interface, data analysis and setup file construction become natural and straight forward. From customized views to additional gates, measurement tools or refined color palettes, UTstudio helps you generate extended reports and much more. Suitable for TFM, phased array and conventional ultrasonic technologies, UTstudio is able to accomplish amazing things and get the job done for a multitude of simple advanced applications.
UTmap
UTmap is analysis software that creates a Tiled Scan (T-Scan) and generates small to large images of the inspection results. Each C-Scan can be positioned or stitched together to form a T-Scan and represent the part geometry. Once assembled, the T-Scan represents a meaningful image for analysis and reporting. UTmap also offers features including the ability to import drawings, outlines and information as images to overlay on the T-Scan and automatically providing precise flaw data and dimensions.
UTview
Loaded with comprehensive user interface, inspection data and results are now freely accessible to anyone who wants to review them. From customized views to additional gates, measurement tools or refined color palettes, UTview helps sharing results with collaborators to get the job done faster.
Xpair
Xpair is a PC-based software application solution to manage data transfer and remote control of instruments in the field wherever a network connection is available. Moreover, with the Xpair Cloud option, a user can access and remotely pilot the instrument of a colleague located 1000s of km away using a mobile or wired internet connection.
Technical Specifications :
General
Phased Array (32:128PR)
UT-TOFD (2PR)
Live TFM
Multi-scan Quantity
Up to 8 scans
Up to 2 scans (UT & TOFD)
Up to 6 scans
Pulsers/Receivers
32:128PR
2PR (4 connectors)
Up to 64 elements probe
Gain Range
80dB
100dB
80dB
Sampling Frequency
125 MHz @ 12-Bit
50/100/200 MHz @ 10-Bit
125 MHz @ 12-Bit (processing 16-Bit)
System Bandwidth
0.2 to 23 MHz
0.2 to 18 MHz
0.2 to 23 MHz
Max Pulse Rate Frequency
50,000 Hz
20,000 Hz
50,000 Hz
Pulse Voltage
100-50V ActiveEdge
400-100V ActiveEdge
100-50V ActiveEdge
Focusing Mode
Natural or Constant Depth/Path/Offset
N/A
Focusing in all points TFM & two TFM Intermode methods
S-Scan Resolution
Up to 0.1°
N/A
Down to 0.01mm
L-Scan Resolution
Down to 1 element or Double Resolution
N/A
Down to 0.01mm
Max PA Beams (focal laws)
Up to 1024 beams
N/A
Up to 500,000 pixels
Tools – Measurements and Wizard
EXTRACTION BOX, 4 gates/A-Scan, TCG, DAC/Split-DAC
4 gates/A-Scan, TCG, DGS/Split DGS, DAC/Split-DAC
12 TFM algorithms, Up to 4 modes per TFMiTM, EXTRACTION BOX, 4 gates, Velocity, TCG, Amplitude fidelity, up to 20 cursors/view
Onboard Scan Plan Tools
Onboard 3D live rendering
Onboard Reporting Tools
PDF auto-report, Export data to CSV file, Save screen capture
Onboard PDF Reader Integrated
Ability to load and read and PDF documents
Online Help Calibration
ACTIVE help genius for parameter optimization procedures, reports
Standards
ISO18563 (EN16392) & EN12668
Operating Time
6 hours (hot swappable batteries)
Power Input
AC 110V/240V @ 50Hz/60Hz
Unit Dimensions
4.52″ x 8.6″ 8.8″ (115 x 220 x 225mm)
Weight
11 lbs. (5.1 kg) no battery, 460 g
Environmental Rating
Designed for: IP66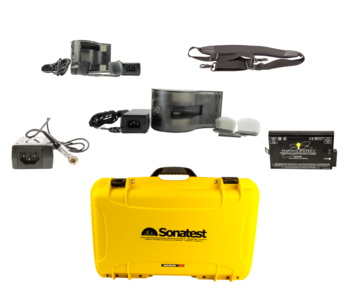 Standard Kit Includes
Veo3 Phased Array Flaw Detector
2 Lithium Ion Batteries
External USB Stick 8GB G3
Ruler
PA 15V 4A AC/DC Power Adapter
Quick Start Guide – Hard Copy
User Manual & Quick Start Guide USB
Carry Strap
Transport Case
Screen Protector (Clear or Tinted)
UTstudio Standard License